Thank you for your interest in Inez Bracy's Rejuvenate Your Life in 21 Days book. You can find out more about the book here. Remember 15% of all sales will go to Feeding America.
Bonuses
Joe Rubino - 7 Steps to Soaring Self-Esteem and Success Achievers' Club Membership
7 Steps to Soaring Self-Esteem is the insightful, eye-opening audio program based on the internationally best-selling book, "The Self-Esteem Book: The Ultimate Guide to Boost the Most Underrated Ingredient for Success and Happiness."
Learn the reasons why this program has been the primary guide for thousands to totally improve their lives by elevating their self-esteem. Healthy Self-Esteem is the #1 factor for all successes in life! Get this Complimentary MP3 Audio Program Now and You will Find Out:
Why over 85% of the World's Citizens Experience Negative Effects from Diminished Self-Esteem
That Often our 'Lack' of Self-Esteem is so Subtle that we Don't Even Notice It
Why Lacking Self-Esteem is the #1 Cause of Most Negative Emotions such as Anger, Hurt, Greed, Fear, and Guilt to name just a Few
Plus You Will Learn Things Like:
How to Replace Negative Messages with New Core Beliefs that Support Your Happiness and Excellence
How to Heal the Past and Stop the Downward Spiral of Self-Sabotage
How to Implement n easy to follow system that will Impact Your Life in a Dramatically Positive Manner
PLUS – You'll receive a 1 Year Subscription to The Success Achievers Club and Success Code Newsletter – filled with wisdom, insightful articles, tips, free and discounted offers for those interested in possessing Extreme Self-Esteem and maximizing their happiness, success, wealth, and personal effectiveness.
Total Value $129
---
Carol Dunlop
100 Ways to Lose Weight and Live a Heart-Healthy Lifestyle
This special fitness e-book contains 100 fun and easy ways to keep excess weight at bay.
By putting these simple tips into use, you will definitely end up on the "losing side!"
Total Value $17
---
Lynn Scheurell
The Feng Shui Way to Wealth Ebook Package
In a never-before offer, you can receive two ebooks FR** on how to harness the power of Feng Shui to attract more of what you want in your life, including wealth. Your environment, or external body, is the reflection of what you are creating 'within'… by understanding your personal Feng Shui, you have the ability to create what you want consciously. These ebooks are designed to give you powerful information and techniques that you can use right away in both your home / office environments.
The Feng Shui Way to Wealth Ebook is 68 pages chock-full of techniques and exercises to help you apply the knowledge points, and goes beyond the standard physical environments. This includes abundance rituals, managing expectations and a life inventory exercise that can help you develop a new relationship with your wealth. Value = $37
The 177 Insights: Harnessing the Power of Your Environment for Health, Wealth and Happiness is 51 pages dedicated to helping you gain awareness through seeing your world with fresh eyes and taking simple actions to shift your energy. We get so busy that we forget what we can do each day to make small improvements that add up over time. This is simply about taking charge of your ability to have more of what you want in your life every day. Value = $27
The fastest way to create change is to 'own' what you've already created in your world, consider what you want now, and then proactively engage with that
energy in your space with awareness to create consciously. You're living with the results of your Feng Shui every day – what would your life be like if you were living with your conscious results?
Total Value $64
---
Masha Malka
GOOD INTENTIONS DO NOT LAST
Stop blaming yourself for not following through with goals and New Year resolutions and learn the tools that will help you take your life to the next level!
Combining Audio with Power Point Presentation this Web Seminar is a very effective and fun way to learn. To sustain your success, you will also receive a highly acclaimed The One Minute Coach e-program by Masha Malka.
Total Value $37
---
GRATITUDE WORKS JOURNAL (E-book)
Katherine Scherer and Eileen Bodoh
A Gratitude Journal for writing five things a day you are grateful for.
Each page begins with "Today, I am so grateful for," and interspersed throughout the Journal are excerpts from the authors' book "Gratitude Works."
Journaling has a positive effect on our mental, physical and spiritual well-being, and is a process everyone can use over and over again.

Total Value $27
---
Tanna Boran
Switchwords for Success!
"Switchwords" are positive, powerful, one-word affirmations by which the conscious mind can talk to and direct the thought patterns of the subconscious mind -- making success and change much faster, simpler, and more profound!
Total Value $29
---
Beverly Mahone
Platinum Member of Boomer Diva Nation 1 Year Membership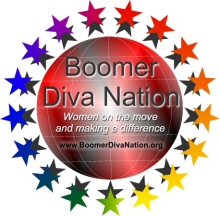 Membership includes:
Your picture WITH your business links on the Diva Web of Fame
Your picture WITH your personal profile link on the babyboomerdivas.com site
Featured Diva AND Featured Business prominently displayed on the BoomerDivaNation.org website plus an opportunity to write about your business
Media interviews during the course of the year
Opportunities to conduct teleseminars (optional)
It's a great value at an unbelievably great price!!! No where else will you be able to get such exposure.
Total Value $50
---
Jimmy R Williams
7 Simple Steps To A Successful Business
Total Value $19.99